BCG's proven diversity and inclusion analytics—and extensive expertise—can help you track the right metrics to drive change.
How to Measure Diversity, Equity, and Inclusion
BCG's Diversity and Inclusion Assessment for Leadership (DIAL) tool analyzes diversity and inclusion benchmarking data within and across industries and geographies. By drawing on our database of more than 25,000 responses from around the globe, we help companies identify the right targets and metrics to keep people strategymoving in a positive direction.

Our diversity and inclusion analytics, paired with our proven framework, help companies focus their business, employees, organizational culture, and efforts on the metrics that matter most in five primary areas: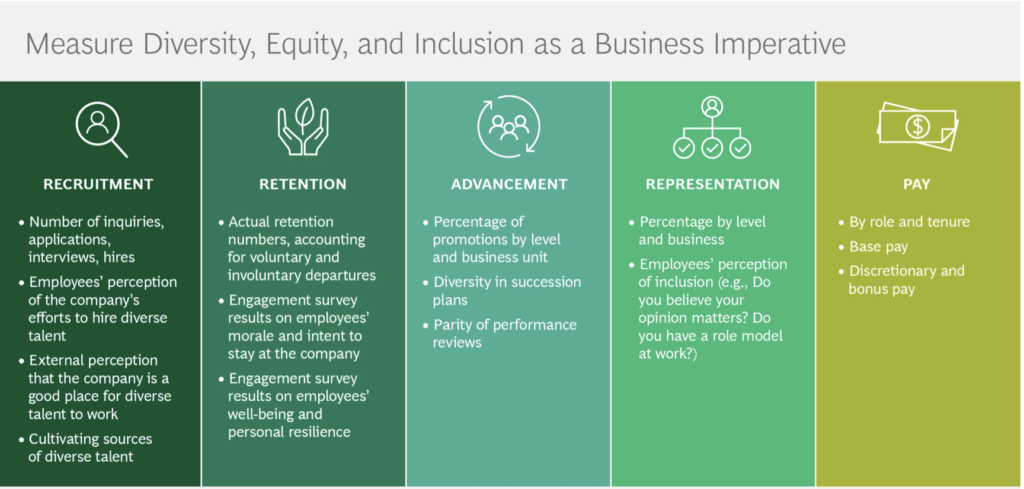 Recruitment. Attracting a strong pipeline of candidates from groups that have been historically underrepresented, such as women or minorities, is critical—especially in industries that have struggled retaining such groups (industrial goods and the tech sector, for example).
Retention. Companies need to know the percentage of employees by gender and race at each level of seniority, and they need to track the attrition rate at each level to determine where the ladder is broken.
Advancement. Companies need to measure the percentage of underrepresented employees, including women, promoted each year as a share of the total cohort and compare that with the promotion rates of men and majority groups. (Keep in mind that the challenge of advancement is

unrelated to ambition levels, as BCG research on women's ambition has demonstrated

.)
Representation. Women and employees from other underrepresented groups who do make it to the top should not be concentrated in such administrative roles as HR or marketing. Ensure they are fairly represented in operational units.
Pay. An employee's role—not race or gender—should determine pay. Even if pay is fair, perceptions count; companies should survey employees to make sure they believe that pay levels are equitable for all employees.
A Custom Approach to Tracking Diversity and Inclusion Data
BCG draws on real-world experience in diversity, equity, and inclusion to customize our approach to client needs. We provide a robust foundation and framework for tracking diversity and inclusion initiatives to ensure progress is made and embedded in your organization's business and people processes. We can also help you communicate the purpose of your efforts to build buy-in throughout the organization.
We leverage diversity and inclusion data baselines to build clear, user-friendly scorecards that are integrated into existing governance processes and the leadership cadence.
We customize these diversity and inclusion benchmarks by business unit, geography, and cohort.
Learn More About Measuring Diversity and Inclusion
The Real Reason Diversity Is Lacking at the Top
Companies are spinning their wheels when it comes to building diversity in leadership. Why? Because they are not focusing on the root causes of the problem.
Companies must take a more comprehensive approach to diversity and apply a more nuanced lens for analyzing diversity data. Deaveraging is essential to formulate the right DEI strategy.
The current crisis may seem like an existential threat that supersedes all other objectives. But building a more inclusive workforce isn't a distraction—it's a critical part of the solution.
Companies won't have balanced workforces unless they approach diversity like any other business priority, with clear metrics to understand the gaps and targeted interventions to fix them.