Our single most important environmental impact and opportunity is linked to the work we do for and with our clients, and the advice we give them. Understanding this issue is challenging, and we're working to gain more insights so we can manage it effectively.
Our goals
We'll reduce our absolute carbon emissions by 50% by 2030 (base year: 2019) across scopes 1, 2 & 3
We'll aim to reduce our supply chain emissions by 25% by 2030 (base year: 2019)
We'll aim to reduce our business travel footprint by 75% by 2030 (base year: 2019)
100% of electricity in our UK offices will be sourced from renewable energy by 2025
We'll divert 95% of our waste away from landfill by 2025
Operationally, the vast majority of our carbon footprint is associated with procuring goods and services from suppliers and with our business travel. Aside from climate impacts, other key environmental impacts from our operations relate to resource use (such as energy, paper and water) and waste generation.
Climate action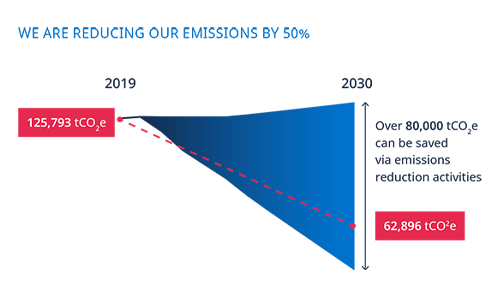 In August 2020 we made a formal commitment to the Science-Based Targets initiative (SBTi) to set a new science-based carbon reduction target. Our new target has now been validated by the SBTi and commits us to reducing our absolute Scope 1, 2 and 3 GHG emissions by 50% by 2030 from a 2019 base year.
To ensure we deliver on this target, our International Energy and Climate Change committee (IECC), has built a carbon reduction strategy around the key areas that deliver the most impact.
We reduced our total carbon emissions by 29% from 2019/20 to 2020/21, however much of this decrease was induced by the COVID-19 pandemic.
For more details on our carbon reduction strategy and our latest performance data, see section 5.0 Our environment in our Sustainability Report 2020/21.
Collaborating on climate action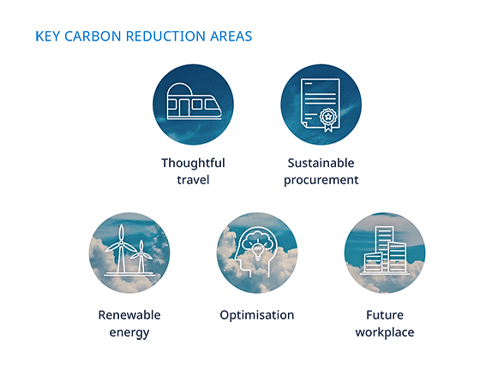 We believe that tackling the climate crisis depends on collaboration between all stakeholders, and support industry-wide and multi-stakeholder efforts to address climate change. Some recent examples include:
In 2021 we partnered with Chatham House to organise a series of roundtable events on climate change.
We've been appointed by the UK government as the Provider of Legal Services for the 26th UN Climate Change Conference of the Parties (COP26), the conference taking place in Glasgow in November.
For more than five years we've supported a small government delegation in international climate negotiations through our pro bono programme, including during this year's COP26.
We're active contributors and leaders in the Net Zero Lawyers Alliance, a legal sector collaboration launched in June 2021.
Understanding risks of climate change
This year we began an assessment to understand our climate risks and opportunities utilising the Financial Stability Board's TCFD framework. See section 5.0 Our environment in our Sustainability Report 2020/21.
Commitments, partnerships and certifications
Our environmental actions are aligned with locally and internationally recognised standards and initiatives, including certification to ISO 14001, ISO 50001 and the Carbon Trust; the UN Global Compact; The Legal Renewables Initiative in the UK, and Business Ambition for 1.5°C. See section 5.0 Our environment in our Sustainability Report 2020/21.
Net zero and carbon offsetting
Adopting our science-based target for carbon reduction has put us on the path to becoming a net-zero firm, and this will become one of our key ambitions going forward. We will explore carbon offset options but recognise these are only for the hardest to abate emissions and we will be transparent about how they are used.